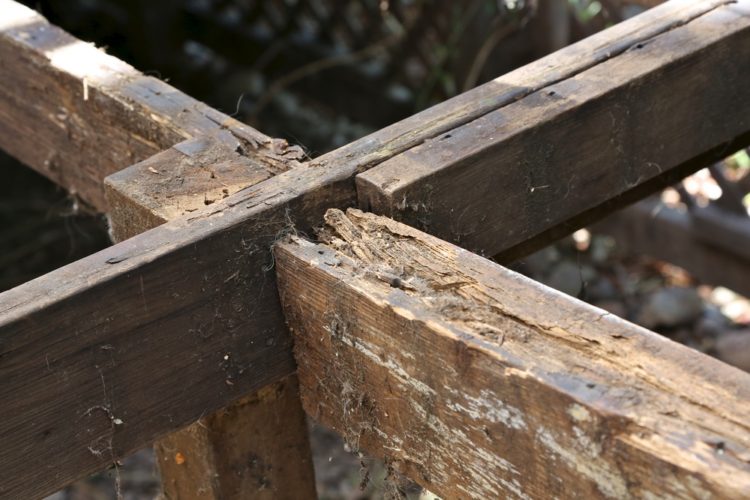 Dry rot is a fungus (Serpula lacrymans) that destroys wood and is not contained to any particular area of the world. It is known to affect timbers in ships and buildings, and can cause widespread structural damage. There is a difference between dry rot and other wood-destroying fungus such as wet rot. Dry rot can affect other building materials besides the timber and, therefore, can spread quickly throughout a building. It is important, then, to identify that the problem is actually dry rot so additional measures, not necessary when dealing with other wood-rotting fungi, can be taken.
How to Spot Dry Rot
Although called dry rot, dry rot is actually caused by moisture collecting and remaining on a wood surface for an extended period of time causing a fungus to break down the wood fibers turning the wood to mush.  Because dry rot usually happens inside walls, under roofing, or beneath your floor, you may not be aware of it. Therefore, ways to spot dry rot include:
Soft or spongy feeling walls, floors, or roofing
Flooring or roofing that is soft in spots when you walk on it
Musty smelling wood
Wood that appears to be shrinking or is cracking
Bubbling paint
Where to Look:
The areas in your home that are most susceptible to dry rot include:
Around windows and exterior doors
Porches or decks
Shower walls
Around the edges of your roof near rain gutters
Caulked joints on interior and exterior surfaces
The floor around the base of your shower or bath tub
Exterior trim
Wood siding around the base of your home
Wood that covers your concrete foundation
Wood near a long-term plumbing leak
ABOUT YOUR CARMEL VALLEY

, CA,

PEST CONTROL

:
Don't allow pests take over your home or business, let Carmel Valley Pest Control, inspect your residential or commercial property. Highly qualified and licensed, we can give you advice, set up a regular maintenance schedule (if you so desire), and provide effective treatments to keep your home or business in one piece! And we're not just pest people, we have over 15 years of experience in interior home and business renovation. Whether you need our pest, termite, or renovation services, our focus is on customer satisfaction. Call us today at (858) 350-8838, (760) 736-8838, or (888) 989-8838.